SELF EMPLOYED DEDICATED HELPLINE
Self Employed Income Support Scheme (SEISS)
HMRC has started to contact taxpayers who may be eligible for grant support under the SEISS scheme. If eligible, the scheme will allow self-employed individuals to claim a taxable grant of 80% of their average annual profits, paid out in a single installment covering 3 months, and capped at £7,500 in total. HMRC are expecting to begin making payments towards the end of May.
You are eligible if you meet the following criteria:
Your business has been adversely affected by Covid-19
You have traded in the tax year 2019 to 2020, and intend to continue trading
You earn at least half of your income through self-employment
You have trading profits of no more than £50,000 per year
You traded in the tax year 2018 to 2019 and submitted your Self-Assessment tax return on or before 23 April 2020 for that year
Individuals can now check their eligibility themselves online using HMRC's eligibility checker, they just need their Unique Taxpayer Reference (UTR) and National Insurance number: https://www.tax.service.gov.uk/self-employment-support/enter-unique-taxpayer-reference.
Throughout this scheme, the tax charities are running a dedicated helpline on 0345 120 3779 to support anyone who is self employed that has questions about SEISS, or needs support. Open Monday to Friday, 9-5.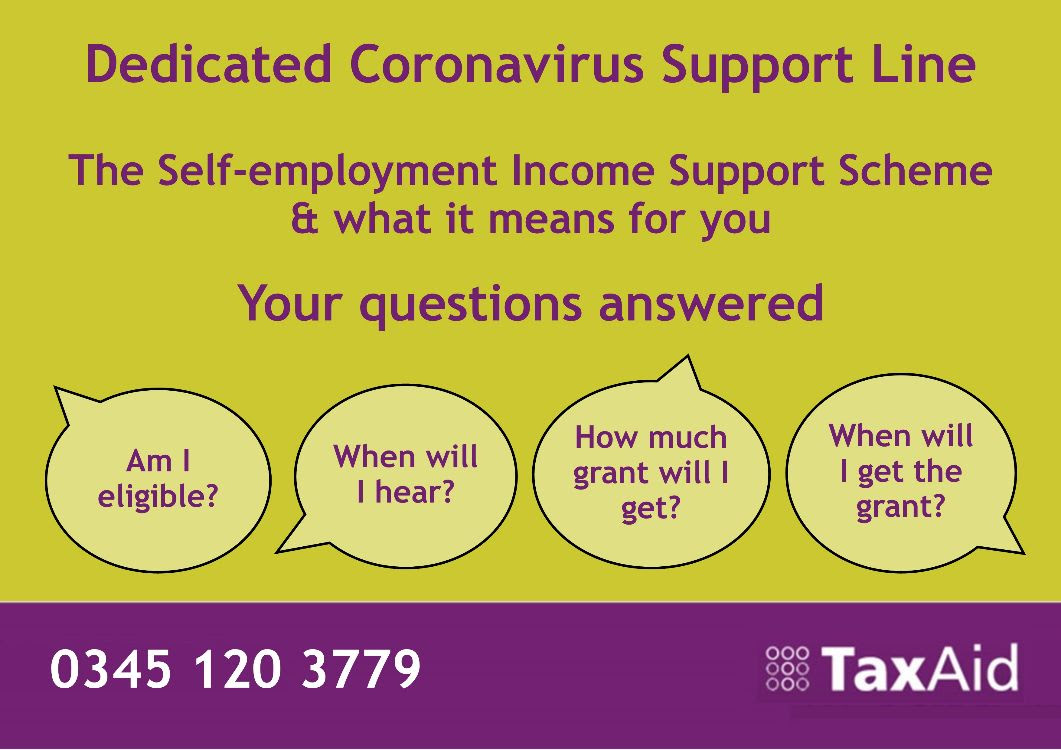 Claiming the grant
Claims can be made when the new service opens on 13 May 2020 and will be accessed via the same link to the eligibility checker. The service will allow eligible individuals to have the money paid into their bank account within six working days of completing the claim.
In order to make your claim you will need the following information:
Your personal UTR (10 digit tax reference) – this can be found on any correspondence from HMRC or on your previous tax returns
Your National Insurance Number
Government Gateway user ID and password – if you are not currently set up for this service, we recommend you do this as soon as possible. Use our guide to find the best route in, or if you have any problems: https://taxvol.org.uk/wp-content/uploads/2020/05/Preparing-to-claim-the-SEISS-grant.pdf
Bank account and sort code that you wish HMRC to pay the grant into – this can only be accounts where BACS payments are accepted
You will also need to confirm that your trade has been adversely affected by the Coronavirus pandemic and that you intend to continue trading throughout 2020/21.
Once the claim has been submitted you will be notified straight away if your grant has been approved. This will then be paid into your bank account within 6 working days.